Dress Code Requirements
Golf Course Dress Code
Golf is steeped in tradition. For many decades golf has been seen as an elitist, exclusive and even stuffy sport with too many rules and a strict unwavering dress code.
At Marlborough, we are extremely proud of our heritage but are equally proud of our modern approach. We have embraced the need for a more relaxed approach to the dress code in order for our sport to continue to thrive and become welcoming to everyone. However, etiquette and social respect both on and off the golf course remain important elements of our culture.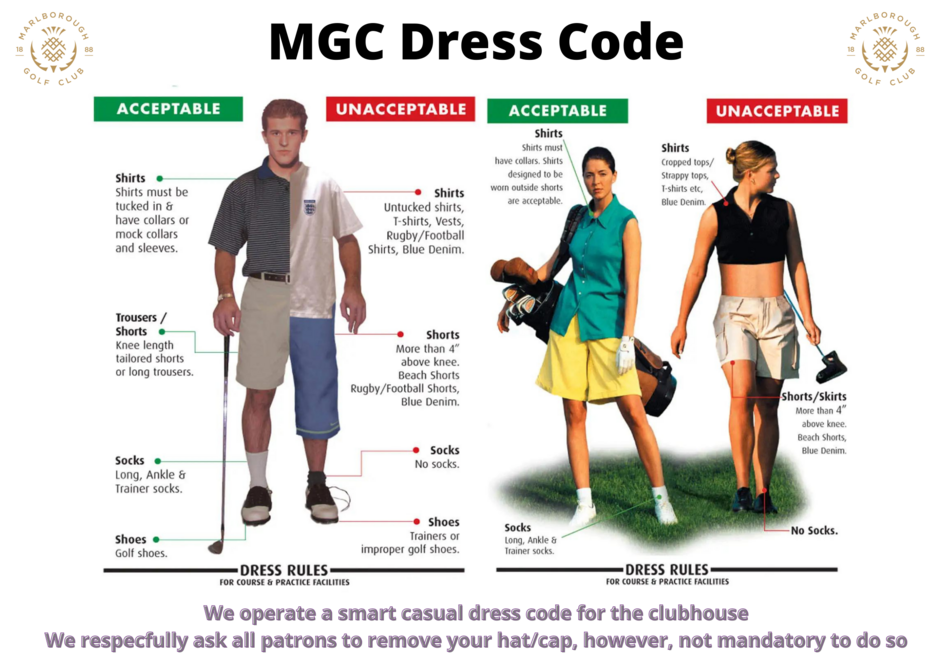 Practice Facilities
We adopt a relaxed dress code in the same way as we have on the golf course. Learning and practising golf should be fun. We recommend participants wear clothing appropriate to the sport but understand that beginners may not have the equipment, golf clothing or footwear, therefore we welcome beginners to use our practice facilities without having to feel intimidated.


The Clubhouse
The Dress Code for the Clubhouse is "Smart casual and appropriate for the occasion"
Golf shoes with soft cleats may be worn in the Bar as long as they are clean – please use the air cleaners provided. Smart, casual attire is expected to be worn at all times in the clubhouse and smart jeans are permitted.
Free Wi-Fi is available if you wish to use your email App or browse the Internet.