Welcome to the Ladies' Section of Marlborough Golf Club.
At Marlborough Golf Club the ladies are proud of our friendly atmosphere. We welcome new members, and have a thriving ladies' section, with regular competitions. We know that everyone's needs differ when it comes to playing golf; some enjoy playing in competitions while others prefer social golf; some ladies work and can only play on weekends or evenings; and we have beginners who are keen to get their handicaps. The ladies' committee work hard to try and accommodate these differing requirements. We offer weekday and weekend competitions, and regular nine hole qualifying competitions as well. We also have a number of drawn competitions, where we mix up different handicaps, so that higher and lower handicaps can all play together.
Ladies Friendlies and Mixed Friendlies
These matches are a great way to meet other members of the club and people from other clubs.
WhatsApp groups. There is a weekend and weekday Ladies WhatsApp group and these can be used to arrange games - please contact Karen Gosling if you wish to add your name to this group.
There is plenty to keep us busy in the next few weeks and I hope you can take part in these events. Please do keep an eye on the notices on the boards in the changing room for more information.
Ladies Competitions
We have regular weekday and weekend competitions and fun competitions during the year. Please see the club diary and posters in the ladies changing room for further details.
The club competes in County Knockouts, inter club competitions and Wiltshire league matches where we field three league teams. We also have a High Silver League team, which competes against clubs in Hampshire, Berkshire and Wiltshire as well as friendly games and mixed friendlies against other local clubs.
Helen Smith
Ladies' Captain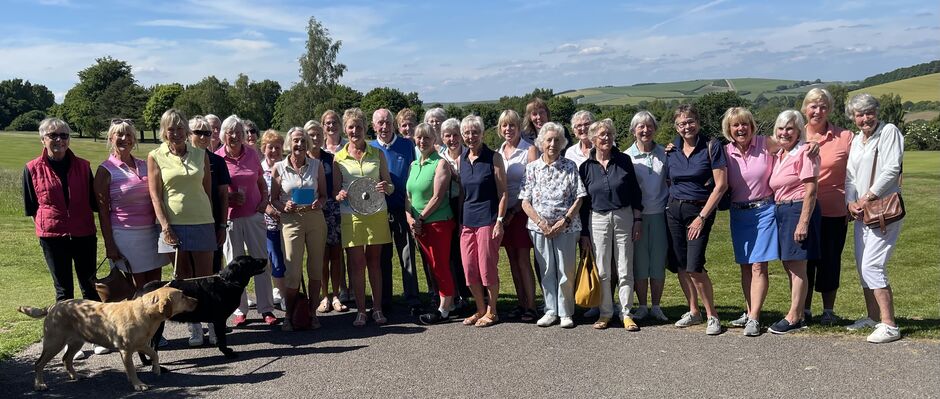 Ladies after the Syd Whant Salver Competition - June 2022